GENERAL INFORMATION
Location: Av. del Carrilet / Carrer d'Amadeu Vives
Castell d'Aro (Girona)
Developer: Departament d'Ensenyament, Generalitat de Catalunya
Architect: Conxita Balcells - Oriol Ribes
Solution: eMii-CS
Country: Spain

MARKETS
Educational
DESCRIPTION
This off-site modular school is located in Castell-Platja d'Aro, in Girona province . The building is arranged on a single floor, and the structural solution adopted consists of two types of intervention:
– The fist one resolves the classroom area (pre-school and elementary), changing rooms and administrative area with industrialized modules.
– The second one resolves the access area, sports hall and stands with traditional construction using metallic gantries.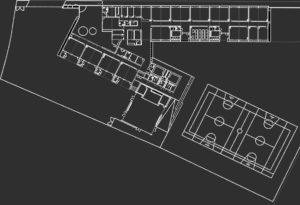 BUILDING STATUS
Project: March 2015
Construction: 5 months
Production: 12 weeks