GENERAL INFORMATION
Location: Camí de Can Coll s/n
Pallejà (Barcelona)
Developer: Departament d'Ensenyament Generalitat
Architect: Joan Ramon Dacosta Díaz
Solution: eMii-C
Country: Spain

MARKETS
Educational
DESCRIPTION
The scope of this project was the enlargement of the high school in Pallejà (Baix Llobregat). This enlargement came from the need of schooling a growig number of students.
The new building is located in the southern part of the lot, at one end of the sports courts and right between the existing building and the double-row tree on the east side.
The aim of the project was the new building to operate quite autonomously, so the proposed classrooms to be hosted were those for baccalaureate. The construction system used is the Compact Habit eMii-C.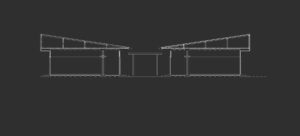 BUILDING STATUS
Project: Març 2015
Construction: 6 months
Production: 5 weeks