Josep Trueta Health Center
GENERAL INFORMATION
Location: Avinguda de França, s/n
Girona (Girona)
Developer: Servei Català de la Salut (CATSALUT)
Architect: Bbats Consulting & Projects, S.L.P.
Solution: eMii-C
Country: Spain

MARKETS
Healthcare
DESCRIPTION
Execution of 89 medical consulting rooms within the project to extend the Josep Trueta Hospital in Girona. The ensemble is based on a 2-floor building.
The industrialised modules from CompactHabit have been used for the consulting rooms, the access corridor, the waiting rooms and the rest of the common spaces.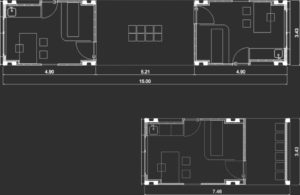 BUILDING STATUS
Project: 21/9/2010
Construction: 3 months
Production: 50 days